The Rug Rack & Home Decor is dedicated to providing our customers with a wide range of hand-made and unique rugs sourced from around the world.
When you shop at The Rug Rack & Home Decor, you can expect to find a wide variety of hand made rugs from around the world. We've imported many of our rugs from Pakistan, Afghanistan, India, and many other countries. We hand select rugs and home accessories from stateside importers from all over the nation. 
We stock a variety of styles, constructions and price points. Machine made rugs can be made of polyester, polypropylene / olefin, nylon or wool. We carry multiple hand made constructions, knotted and woven. The Rug Rack and Home Decor also offers a variety of custom programs, specially custom rugs or runners made from broadloom carpet. Several variable go into the cost of a rug, take some time to learn what you can expect from different products and weigh your options and budget from there. We stock every thing from mid range price points on machine made rugs to unique hand knotted rugs.
Recently, brightly colored rugs have been trending in the interior design world. With The Rug Rack & Home Decor, you can definitely purchase your own.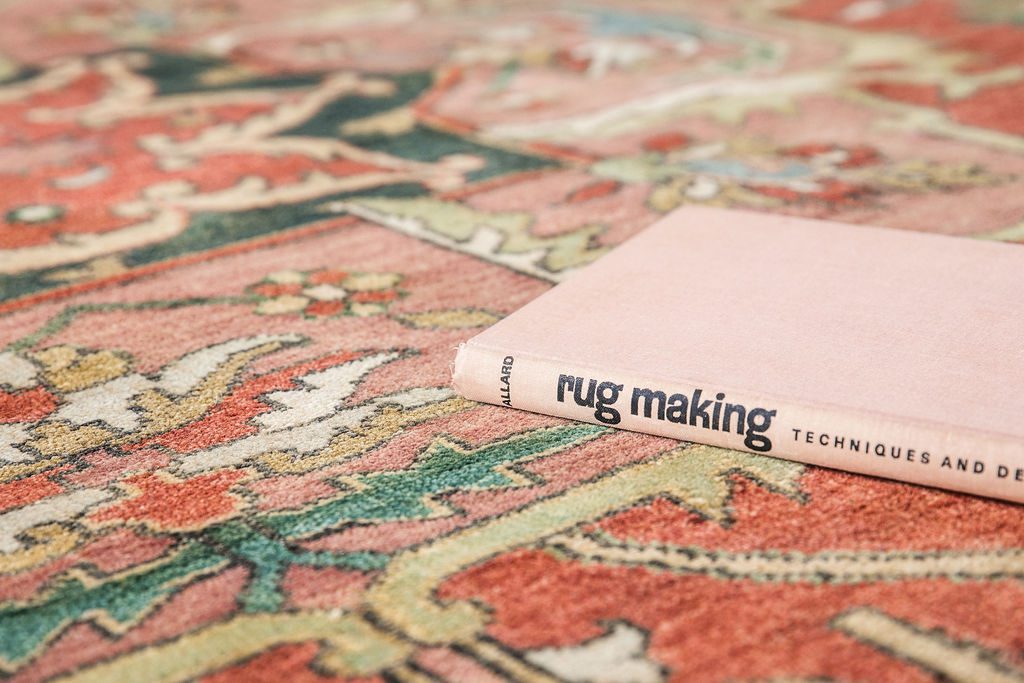 Hand-made rugs are a great design choice and investment as they tend to be artisanal, long-lasting, unique, and completely one of a kind.
Unlike machine-made rugs, handcrafted rugs take time. But because the process is longer and slower, a lot more care and effort go into making the rug. From the threads or yarn used to the techniques employed, a handcrafted rug is usually always better made, more durable, and of higher quality.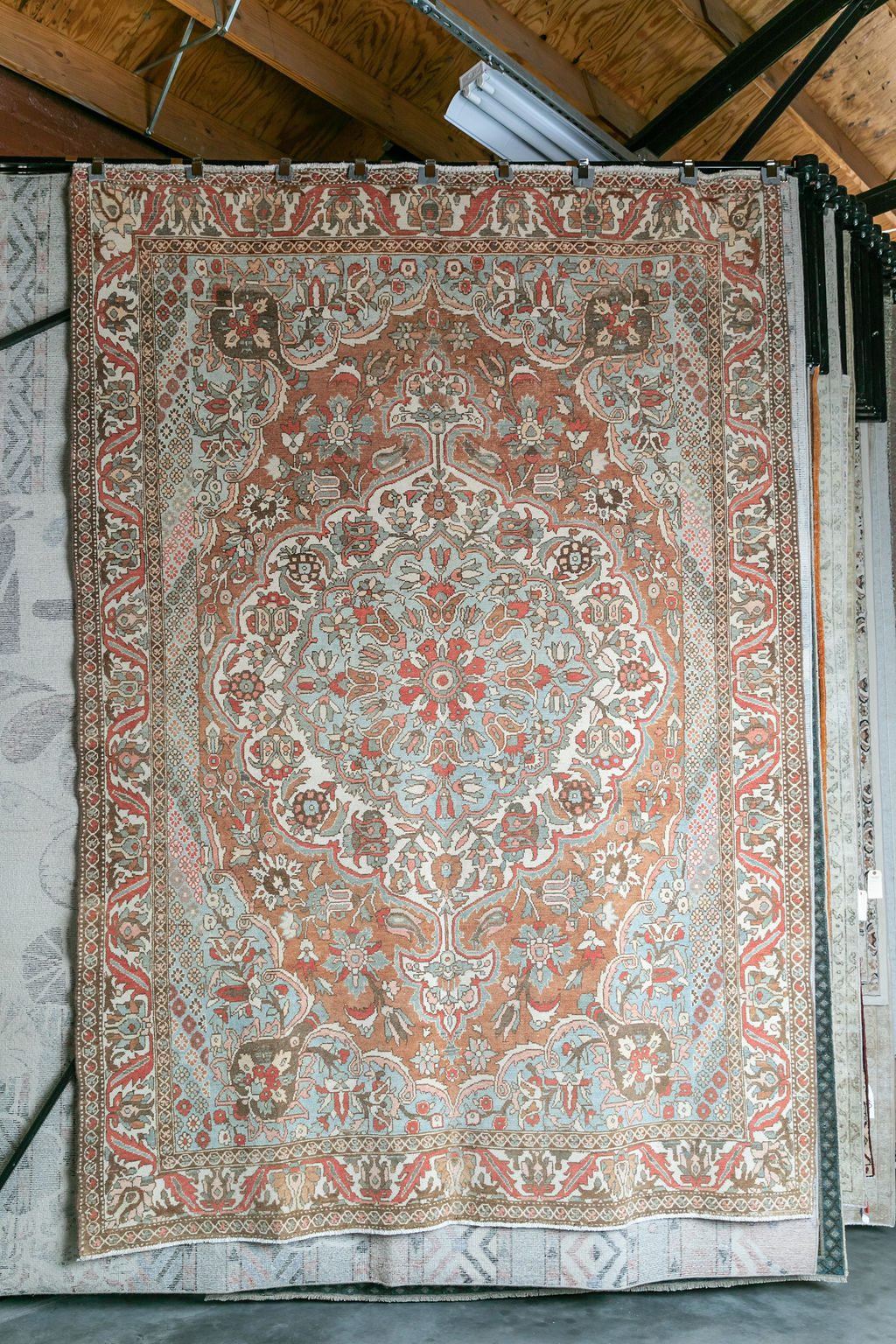 Take a look at some of our rugs, and reach out to us to learn more about their history and price range.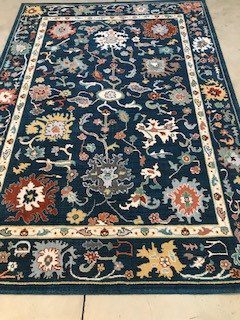 5×8 New Zealand Power Loom Rug
This 5×8 New Zealand Wool power loomed rug is sporting the ever so trendy bold color with Turkish designs. This is a great way to stay up on the current decorating trends without spending a fortune on a hand knotted Turkish piece.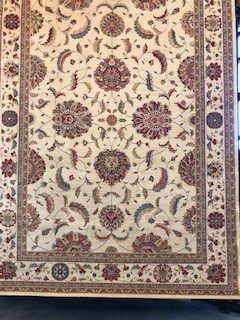 8.3×11.3 Wool New Zealand Rug
Power Loom rugs woven with New Zealand wool are very durable, machine made rugs. Wool accepts dyes perfectly, therefore the clean crisp designs in this rug tend to be very favorable, especially in a traditional setting. The size of this rug is 8'3" wide by 11'3" long.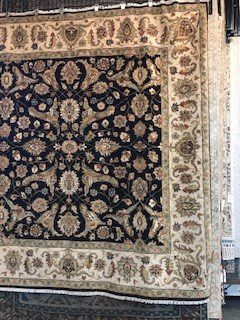 Square 9×9 Hand Spun Indian Wool Rug
This is a square 9×9 rug made in India. The wool is hand spun, therefore creating a little bit of nubby texture to the visual appearance of the rug. The charcoal color in the field has a soft abrush. The accent colors are slightly muted but more representative of a spring color pallet.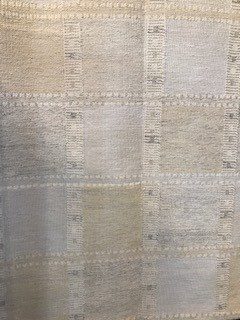 9×12 Flat Weave Wool Rug
This 9×12 area rug falls in the flat weave category. This is referred to as a kilim and is made out of wool with some mercerized cotton. This is a very hearty construction and can be used in high traffic areas. The modern design is achieved with the oversized blocks and tone on tone neutral color.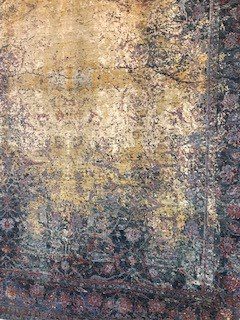 9×12 Indian Hand Knotted Rug
This very fine Indian hand knotted rug is a 14/14 quality. What that means is there are 196 knots per square inch on this 9×12 rug. The very small denier yarn used to make these knots gives this rug incredible depth in the use of color. The detail comes through in the use of so many knots.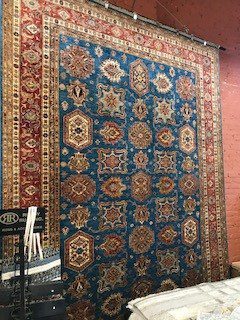 9×12 Pakistan Rug
This 9×12 Pakistan rug is referred to as a super kazak. The strong influence of a rich Mediterranean to turquoise blue color paired with a rich terracotta is a very pleasing color combination. The geometric designs are used in both formal and informal settings.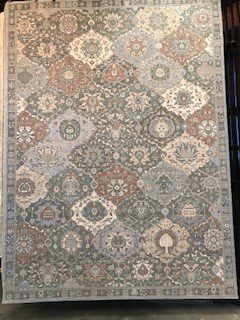 Bakhtiari Wool Power Loom Rug
This is a wool power loom rug in 8.6×11.6. The design is referred to as a Bakhtiari or panel design. This is a very versatile design as it has no center focal point. This is excellent to go under a bed or dining room table where some of the rug would be obscured.